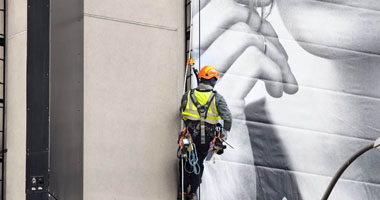 Signboard Cleaning
Signboards are important for every organization and cleaning the signboards is much more important as they reflect the company's reputation. We being the top and excellent rope access company provide Signboard Cleaning services all over UAE.
Vertex Rope Access excel at installing all forms of high-level banners and signage, no matter how large the sign is or how difficult the access may appear.
Our fully trained team of IRATA rope access technicians are highly skilled and experienced in all aspects of the safe installation and maintenance of banners and signage, including illuminated signage, vinyl and building wraps.
Using rope access to install, maintain and remove banners and signage has many advantages. Cost, time and disruption are kept to a minimum, and reach hard-to-access areas that can prove commercially or practicably unfeasible through other means of access.
Vertex also partner with one of the UAE's largest and most well-established signage designers and manufacturers, who seek out our advice on installation for all complicated schemes during the design and specification phase. This collaborative approach ensures that, from inception to completion, your project will proceed smoothly, safely and cost-effectively.