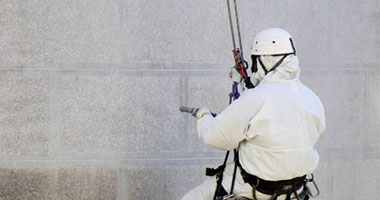 Sandblasting
Sandblasting is a significant process of completing the finishing process of any system. It smoothens the outer layer of the article. It cleans the surface, as well. Sandblasting administrations are an incredible method for eliminating rust, oil, and destructive impurities from practically any sort of surface.
Rope access is a versatile access method and can be used on a variety of structures and shapes. It is best suited for blasting the interior of tanks where all the dust generated by the abrasive blasting can be contained and evacuated.
An industrial paint or coating is used on the outside of buildings to protect their structure. It can be used to protect steel from corrosion and destruction by outside forces including extreme weather conditions, or to help fireproof buildings. There are a number of different industrial coatings which can be used for a variety of different projects.
When carrying out industrial painting work, a technician will follow a four stage process. To begin they will blast the surface to roughen and prepare it for the primer, which is stage two. Once the primer has been applied, the technician will then apply the intermediate coat to protect the building or structure from leaks. Lastly a top coat will be applied for aesthetic purposes and to provide chemical resistance.