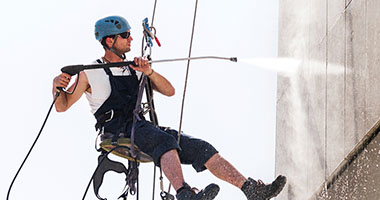 Pressure washing
Pressure washing or power washing is the utilization of high-pressure water splash to eliminate free paint, form, grime, dust, mud, biting gum and soil from surfaces. We are giving high power pressure washing to commercial and residential building structures all over UAE.
External cleaning is an important part of your building's ongoing maintenance. Not only does commercial cleaning aid in keeping your building safe but if you are trying to draw custom or create a certain impression to the public removing grime, algae and bird muck is incredibly important.
If you operate from a small building it may be possible to clean the outside facades yourself or to hire professional cleaners who are able to work from the ground. Unfortunately, for structure of any height cleaning can become difficult, costly and intrusive. In these circumstances it can be beneficial to hire a height specialist company, such as those who are skilled in rope access to clean the building effectively and safely for you.