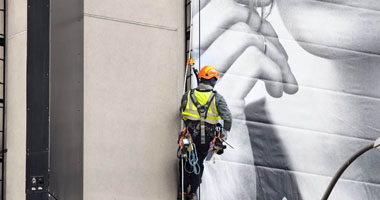 Banner and artwork installation
We install banner and artworks at any heights for your residential and commercial buildings all over UAE. We being the best Rope Access Services in Dubai provide Banner and Artwork installations to all the commercial and residential buildings.
One of the main obstacles you may notice when considering outdoor banner advertising is the logistics of how to install it. Whilst it is possible to use scaffolding and other MEWP services, rope access could be the technique that you are looking for to hang signs and banners quickly and cost effectively.
The benefit of using rope access is the technique's safety, flexibility and reliability. Heavy equipment is not required to install signs using rope access meaning work can be carried out without disturbance to the building. At Inspection & Rope Access Specialists our rope access team have experience in installing both temporary and permanent displays and have the knowledge regarding various types of installations.