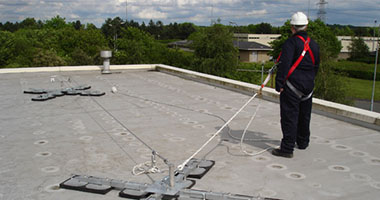 Anchor installation
An anchor, or an anchorage connector, is a vital component of a fall protection system. Its main function is to serve as an attachment point for other parts that will stop a falling worker, such as deceleration devices, lifelines, or lanyards. With an excellent Rope Access services in Dubai, our technicians make sure that all the anchors are installed carefully.
Every building manager/owner should know that any working at height access equipment on their premises is solely their responsibility, and they will need to ensure the system is fit for use, whether that be carrying out manufacturer requirements or tests in accordance with the current standards. Vertex Rope Access provides installation, testing and periodic examination of type A Anchor devices, ensuring they are fit for restraint, fall arrest or rope access & working positioning in accordance with BS EN795, BS7883, BS8610.
Both eyebolts and anchor points can be installed in a wide variety of properties, and left with a sleek finish to meet aesthetic needs, where visible.
Eyebolts used for fall arrest purposes should be recertified on an annual basis and replaced after ANY fall, whereas anchor points used for rope access/working position are to be recertified every 6 months or deemed not fit for use.